VPN performance
Published 5 April 2014.
My work dictates a frequent need to travel and as a result I spend a considerable amount of time away from my office. I've previously used a VPN connection to provide a degree of protection and security whilst working from untrusted locations such as airports and cafes. VPNs are also useful in being able to access services which may be blocked due to particular network configurations or local restrictions. An additional benefit is being able to use VPN end points in specific geographical locations to allow access to regionally protected contect like iPlayer in the UK and Hulu in the USA.
One disadvantages of connecting via VPN was a noticeable reduction in network access speeds which could make browsing frustrating and transferring large amounts of data more time consuming. Having recently seen an article on [AirVPN][1] that claimed they provided unlimited bandwidth, subject to server load & availability, I wanted to conduct a quick test. The results were significantly above my initial expectations.
My home is served by a Virgin Media 120mbps line. Virgin are known for heavy handed traffic shaping during peak times so my expectations of a test performed at 8PM on a Saturday evening weren't particularly high. I was pleasantly surprised. This was essentially an out of the box test with standard settings on a Macbook Pro running Viscosity connected via 802.11ac wireless to a 5th Gen Airport Extreme router and Virgin Superhub in modem mode.
Without VPN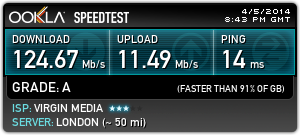 With AirVPN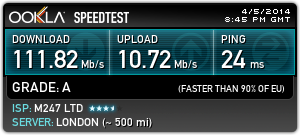 AirVPN dashboard
Heres the dashboard from AirVPNs control panel confirming the connection at 121Mbit/sec.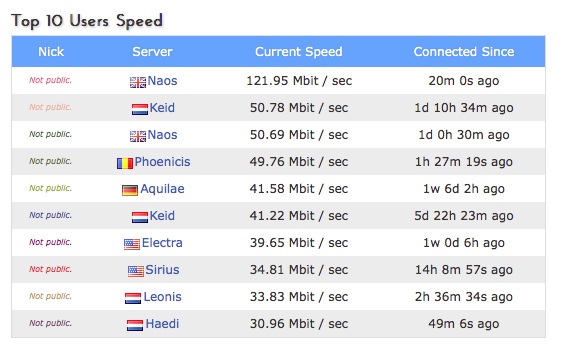 I've taken a months subscription out with AirVPN and will be keeping an eye on performance over the next 30 days to see if this was a one off result or if this is typical performance.